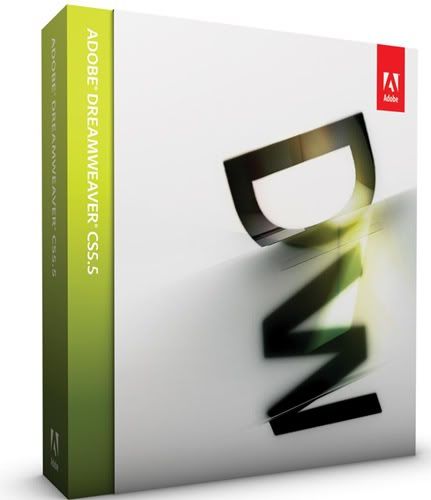 Adobe Dreamweaver CS5.5
Adobe Dreamweaver is the industry-leading web authoring and editing software that provides both visual and code-level capabilities for creating standards-based websites and designs for the desktop, smartphones, tablets, and other devices. Discover Adobe Dreamweaver software, which includes CSS tools, Ajax components for building dynamic user interfaces, and intelligent integration with other Adobe software. Build world-class websites and applications with one of the industry's leading web authoring tools. Dreamweaver software is ideal for web designers, web developers, and visual designers. Enhanced coding functions make it a breeze to navigate through complex site pages at design time. Layout tools bring expedited workflows, from comp conception to client approval. Design confidently, build cutting-edge HTML5 and CSS3 websites, and add new levels of interactivity in Adobe® Dreamweaver® software. Design for multiple devices concurrently, and have greater confidence in comprehensive code checking.
Design your web pages under real-world browser conditions with the new Live View in Dreamweaver — while still retaining direct access to the code. Design your pages in Dreamweaver so end users can edit their web pages without help from you or additional software using the InContext Editing online service. As a Dreamweaver designer, you can limit changes to specific regions on the page.
FEATURES:
• CSS3/HTML5 support. Style with the CSS panel, updated to support CSS3. Design view now supports media queries, applying different styles as you adjust screen dimensions. Code for the future with HTML5, with code hinting and Design view rendering support. Live View now includes support for <video> (with QuickTime) and <svg> tags.
• jQuery Mobile integration. Add advanced interactivity with jQuery code hinting. jQuery is the industry-standard javascript library, making it simple to add a wide range of interactivity to web pages. Get a jump start with starter templates for mobile phones.
• Native Android and iOS apps with PhoneGap. Build and package native apps for Android™ and iOS with new PhoneGap functionality. Convert your existing HTML to a mobile phone application within Dreamweaver using the open source PhoneGap framework.
• Adobe BrowserLab integration. Preview dynamic web pages and local content with multiple viewing, diagnostic, and comparison tools. Dreamweaver integrates with Adobe BrowserLab, an Adobe CS Live online service1,2 that accurately tests web content across browsers and operating systems.
• Multiscreen Preview panel. Design for smartphones, tablets, and personal computers with the Multiscreen Preview panel. With media query support, developers can style and visualize rendering for a range of devices in a single panel.
• FTPS, FTPeS support. Deploy files more securely with enhanced FTP support. Dreamweaver CS5.5 now adds native support for the FTPS and FTPeS protocols.
Download Link
Password Mediafire :
www.asitusi.org